The Ukraine News App is a result of my dedication to creating a singular, reliable, and instant news platform for English-speaking users interested in the latest developments in Ukraine. This app stands as a comprehensive hub for all Ukraine-related news, especially focusing on the ongoing Russian-Ukraine conflict.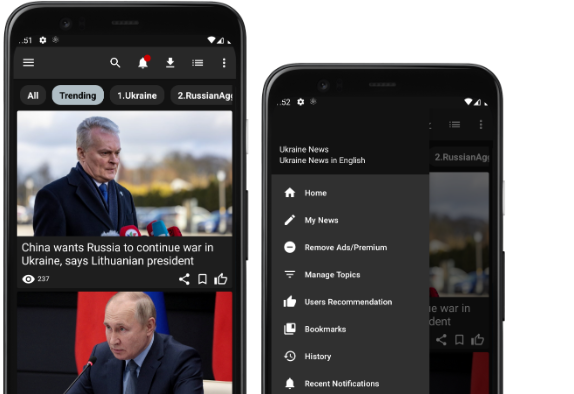 Designed with simplicity and user convenience in mind, the app's minimalistic design and optimized performance ensure news feeds load instantly. The app sources its content from credible and reliable Ukrainian newspapers, providing a one-stop solution for users, eliminating the need for multiple news source apps.
To cater to a wide range of user interests, the app covers ten different news categories, including Ukraine, Europe, Russian Aggression, World, Business, Entertainment, Sports, Opinion, and Sci/Tech. A distinctive feature of the app is the ability for users to personalize their news feed by turning off categories that are not of interest to them.
The Ukraine News App offers an array of features designed to enhance user experience. Users can enjoy unlimited scrolling within a news category, a smooth swipe function to browse different categories, and a quick access menu drawer. An efficient search option is provided for easy discovery of news articles. The app also includes a source news browser for comprehensive reading, a bookmark manager for favorite articles, and a news reading history tracker.
Furthermore, the app is equipped with a news translation feature, a history of news notifications, and a settings menu allowing users to customize their viewing preferences and notification settings. The built-in share button allows users to effortlessly share articles of interest.
A committed team actively maintains and updates the app, ensuring an ever-evolving and seamless user experience. With the Ukraine News App, users not only stay updated with the latest happenings in Ukraine but also enjoy a swift, user-friendly, and personalized news reading experience.