The "Daily Science News" is an innovative app designed and developed by Apps For Nexus, offering users a comprehensive and speedy hub for the latest news and developments in the field of science. Recognized as the fastest science news app, it is designed to load news feeds instantly, enabling users to browse and read more news in less time.
With daily additions of hundreds of latest science news and articles, the app ensures you are always in the loop with the scientific world. It gathers instant news from the best sources, and it also boasts an integrated Science Dictionary & Facts feature to help users learn about any scientific term or topic.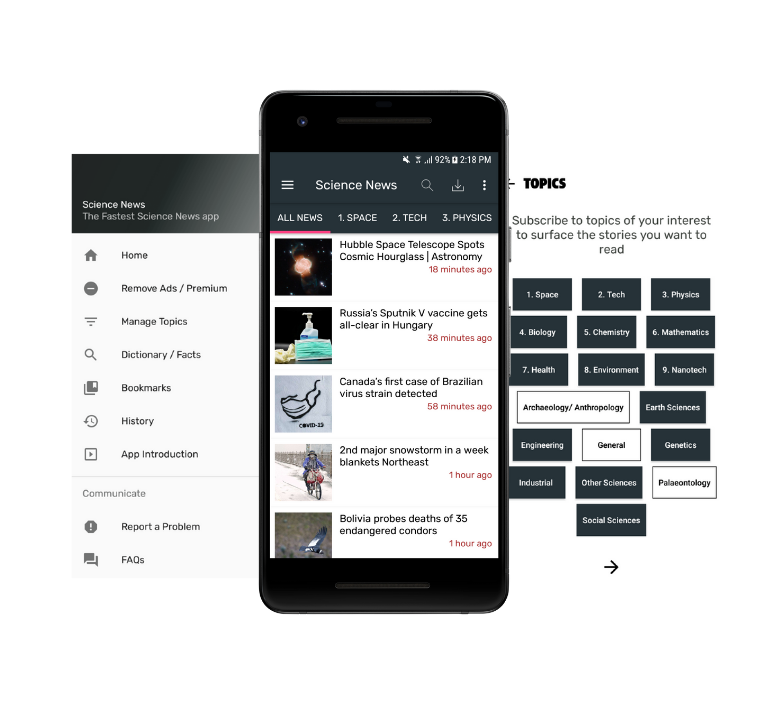 The app stands out with its user-centric design, allowing users to personalize their news feed by choosing specific topics of interest and turning off the ones they aren't. With more than 30,000 breaking news stories and articles to browse and read, users have access to an extensive range of subjects across fifteen major fields of science, ranging from Space and Technology to Environment, Nanotechnology, Archaeology, and Social Science.
In addition to the breadth and depth of its news coverage, the "Daily Science News" app is enhanced with features like an excellent search function, news bookmark manager for saving favorite articles, a source news browser for complete news reading, and a news translation feature. Users can also track their reading history, share news with others, and adjust their settings for an optimal reading experience.
One of the app's key highlights is its active maintenance and updates by a dedicated team, ensuring a seamless, enriching, and user-friendly experience. With the "Daily Science News" app, users can stay connected with the world of science at their fingertips and learn about the latest scientific discoveries in a fast, easy, and enjoyable way.